Work
As you read this, I'll possibly be somewhere over the Atlantic on my way to Seattle.
This is a week off, so of course I spent ages messing about with my website. I'm pretty pleased with it. It's kind of live just now, but I'll redirect all my other domains towards it in a couple of weeks once I've ironed out the kinks. Have a look and let me know what you think:
Doing that made me look at my backlist with a different eye. I hated the first two book covers. So I did some new covers for the first two Cullen books: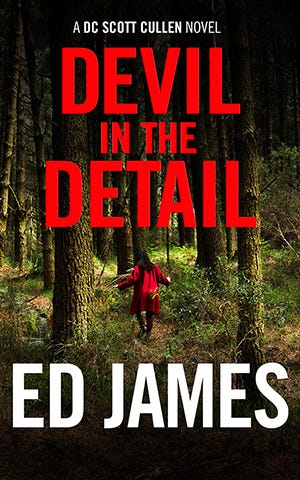 And for some reason I can't fathom, I've relaunched the two Supernature books. Book 1 is now BAD BLOOD, previously published as JUST WALKING THE DEAD:
And Book 2 is now COLD BLOOD, previously published as SHOT THROUGH THE HEART:
If you haven't bought them, take a look. While they didn't sell anywhere near as well as my crime stuff, I do have a soft spot for them and I get emails asking if I'm doing any more (incredibly unlikely, but you never know). And I can't seem to escape being asked about them at book events, so I might as well own it. Plus I did all that work and spent all that money on them. If you want to check them out on Amazon, do so here: Bad Blood; Cold Blood. (At the time of writing, the series page hadn't been updated to reflect the resequencing…)
---
Project update
No real updates, given I'm supposed to not be working, aside from Project BIGTIME having a cover and, while I can't show you it yet, it's DAMN DAMN GOOD. I'm ridiculously excited about it.
---
Photo of the week
---
Play
Been reading Joe Abercrombie's A Little Hatred, which is a sort-of fantasy novel in a sort-of series. I'd better explain that. So it's in a medieval fantasy setting, but one that's undergoing the industrial revolution and all the pain that ensues. And it's book seven in a sort-of series. The first three novels are among my favourite things ever, a sprawling epic with incredible characterisation. The next three were patchier, with book 4 and 6 being pretty damn good, but the fifth (The Heroes) just a horrible grind. I'd say I'm enjoying A Little Hatred, but the first third is a masterclass in having way too many POV characters. And I know I'm one to talk for having too many characters in a book, but this is brutal. My understanding is he wrote the trilogy in one burst and it's being released annually, so there's obviously a lot of worldbuilding needed to support the story, but this was slow. At around 40% it kicks in and I'm really enjoying it now.
I bought a Nintendo Switch last week and blasted past Link's Awakening, a 2019 remake of a 1993 Gameboy game. I played the original, my first Zelda, and got stuck halfway through. I've beasted loads of Zeldas since, and managed to batter through this in a week or so, and not particularly intense playing. Really enjoyable, though. It looks and sounds incredible, and the gamplay didn't feel too janky. In what's going to be a mistake, I started Dragon Quest XI, a REALLY LONG Japanese RPG. It's great so far.
TV watching has mostly been the second season of Vice Principals. We watched the first one back in 2013/14, I think. It was an HBO show that Sky Atlantic had, but the second season never showed up. So I bought it on Amazon and it's brilliant. Danny McBride and Walton Goggins are on top form in this.
And that's us. Week 4 of 12 of the test. I'm enjoying it, let me know if you do or don't. Please!
— Ed