Sleepless not in Seattle / Monday, 28th October 2019
How one man battles through a book
[Sorry, admin issue meant some silly sod set this for 7:30pm rather than 7:30am]
This week I'll give you two sides of the same coin. As you've been bored by my tales of travel—just about recovered from it, thanks—I'll bore you with tales of why I was there.
Meet Max Carter, my new hero. He's an FBI Special Agent based out of the Seattle Field Office and heads up the Child Abduction Rapid Deployment unit. He's got a wife, Emma, and a young daughter, Kristy. Any child going abduction in America is automatically a federal crime (as opposed to a local police jurisdiction), so he has to find them. This is what a big chunk of my next six months of work are going to be about.
Currently, I'm weaving my way through the first draft of the second book in the series, with the not-very-serious working title "Oh no not my sweet baby". I work to outlines and wrote a good chunk of this outline back in July 2018, but since signing with Bookouture and editing the first book a lot, I've spent a few weeks this year reworking it, both to fit the character changes but also to strengthen the story.
Anyway, I'm still suffering a bit of fatigue and trying not to pressure myself too much, but I cleared 21,000 words in the first week, which is a wee bit on the slow side for me. I do think is hitting a higher quality bar than my usual first drafts. I reckon it'll be another three weeks of writing then a week to read it through again before it goes to my editor to tear it apart. Luckily I'm a grumpy get and don't really care if I'm missing Xmas. Bah humbug and all that.
But having been in Seattle and taking the ferry across to Bremerton has really helped with writing about the area. Getting a real feel for how the locals see the city. And giving me a few cool places to set the story. Seattle is a fascinating city and it really validated the decision to write about the place.
(And a large part of why I'm so tired is the old juggling five projects thing. Three of them are out of my hands, leaving me with just two Carter books to do, this one by December and the third by April. One of the advantages to working this way is I've had to focus on the outline for book three before I wrote book two so I've got some big changes to make to the end of this one, which will free me up a lot to make book three much more standalone than the first two. So I'm getting over the hump with it. Roll on December!)
And this week will be entirely focused on ploughing on with the second book. Aiming for another solid 20-25k, even with the clocks going back. I hate that.
---
And the other side of the coin is the preorder release of the first Carter book, TELL ME LIES. Look at that cover too. Gorgeous, isn't it?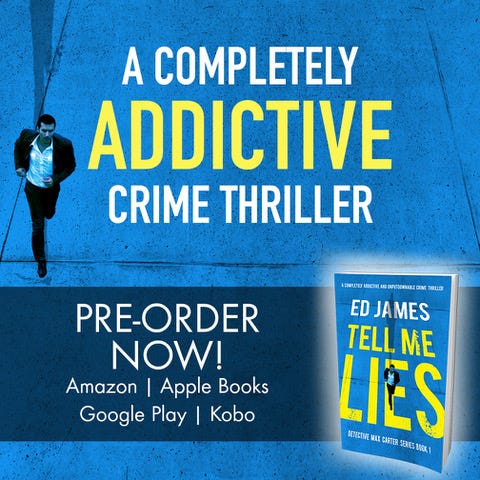 It's available from everywhere, not just Amazon:
AMZ: https://geni.us/B07ZJC71FCCover
Apple Books: https://buff.ly/2JBFrYz
Kobo: https://buff.ly/2NbeXxL
Google Play: https://buff.ly/2Pj0Edm
Have fun this week and don't let the clock change break you.
Ed